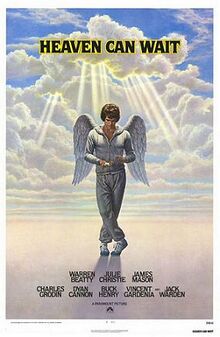 Heaven Can Wait is a 1978 American fantasy-comedy film co-directed by Warren Beatty and Buck Henry. It was the second film adaptation of Harry Segall's play of the same name, being preceded by Here Comes Mr. Jordan (1941).
The film was nominated for nine Academy Awards. The cast reunites Beatty with Jack Warden and Julie Christie, who also starred together in the 1971 McCabe & Mrs. Miller and the 1975 Shampoo, respectively.
A third film adaptation of the play was done in 2001, titled Down to Earth.