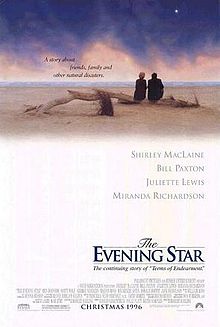 The Evening Star is a 1996 American comedy-drama film and a sequel to Academy Award for Best Picture-winning Terms of Endearment, starring Shirley MacLaine, who reprises the role of Aurora Greenway, for which she won an Oscar for playing in the original film. The script is by Larry McMurtry, based on his novel, and Robert Harling, who also served as director.
The story takes place about fifteen years after the original, following the characters from 1988 to 1993. It focuses on Aurora's relationship with her three grandchildren, her late daughter Emma's best friend Patsy and her longtime housekeeper Rosie. Along the way Aurora enters into a relationship with a younger man, while watching the world around her change as old friends pass on and her grandchildren make lives of their own.
Miranda Richardson co-stars as a Houston divorcee and Aurora's rival, Patsy Carpenter. Juliette Lewis plays Aurora's rebellious granddaughter, Melanie Horton, with Marion Ross as Aurora's housekeeper (Golden Globe nominated in the Best Supporting Actress category) and Bill Paxton as Aurora's psychiatrist and lover. The movie was Ben Johnson's last, in a career that spanned over 60 years. The film is dedicated to him. Jack Nicholson returns in an extended cameo appearance, playing the role he played in Terms of Endearment, retired astronaut Garrett Breedlove.
The Evening Star received unfavorable reviews from critics and failed to recoup its budget at the box office.