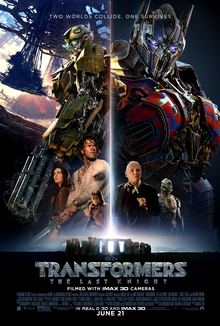 Transformers: The Last Knight is a 2017 American science fiction action film based on the Transformers toy line created by Hasbro. It is the fifth installment of the live-action Transformers film series, the second film in the sequel trilogy and the sequel to 2014's Transformers: Age of Extinction. Like its predecessors, the film is directed by Michael Bay, featuring Mark Wahlberg returning from Age of Extinction, with Josh Duhamel, John Turturro, and Glenn Morshower all reprising their roles from the first three films, with Laura Haddock and Anthony Hopkins both joining the cast. Bay and Wahlberg have stated they will not return for another sequel.
The film premiered at Odeon Leicester Square in London on June 18, 2017, and was theatrically released in the United States on June 21, 2017, by Paramount Pictures in 2D, 3D, and IMAX 3D. Like its predecessors, the film received negative reviews from critics and, with an approval rating of 15% on Rotten Tomatoes, it is the worst-reviewed film of the series. The film grossed over $605 million worldwide, making it the 11th highest-grossing film of 2017, but also the lowest of the franchise. Criticism was pointed towards its plot, script, humor, human drama, inconsistent aspect ratio, and many complained that several scenes were too rushed. However, the visuals, story, and Steve Jablonsky's musical score received praise. A spin-off/prequel, entitled Bumblebee, is scheduled for release on December 21, 2018. An untitled sixth film, a direct sequel to The Last Knight, is set to release on June 28, 2019. Michael Bay, will be producing both upcoming films, as opposed to directing.
International Edits
Edit
In cinema prints, the 1975 logo was shown then it shows the opening credits until the 2011 logo is shown, but every public release except for the kisscartoon copies have the paramount logo fade out then fade in through the beginning of the film instead of the Variant used in the film.